Hair Gel, Conditioner & Body and Face Moisturizer
$9.73
Honey Bee Frizz Free simply put, is the BEST ORGANIC HAIR AND BODY GEL. It's super light in texture and does a great job of softening hair while sealing in moisture. As a leave in conditioner it holds hair in place while providing moisture and shine for protective styles.  This non-sticky honey based gel is excellent for all hair types and it's also a beauty powerhouse that moisturizes, repairs and maintains the skins youthful glow and softness.
For your skin it's light, refreshing, moisturizing and great at minimizing pores, tightening skin, evening out skin tones...working double time at minimizing fine lines and wrinkles.... Simple ingredients like Aloe, Honey and Shea Butter makes it healthy, safe, and effective to use from head to toe... But the kicker is the pineapple tropical Vaca smell and easy travel ability. Being 1 product that does the job of 4 hair and body Products makes it easy to pack light, making it the perfect travel buddy.   
10 HONEY BEE FRIZZ FREE BENEFITS:
Smooths  Hair Shaft

Honey Pre-Shampoo Treatment

Conditioning Hair Gel

Moisture Rich Rinse out Hair Mask

Cleans hair follicles, minimizing hair loss

Refreshing Face and Body Moisturizer

Reduces the appearance of fine lines and wrinkles

Evens Out Skin Tone

Shrinks pores

Soothing for sunburned and dry skin.
I LOVE USING IT ON MY HAIR FOR A SHINY MEDUIM HOLD FOR MY BRAIDS, TWIST, UPDOS, PROTECTIVE STYLES, AND WASH AND GOES...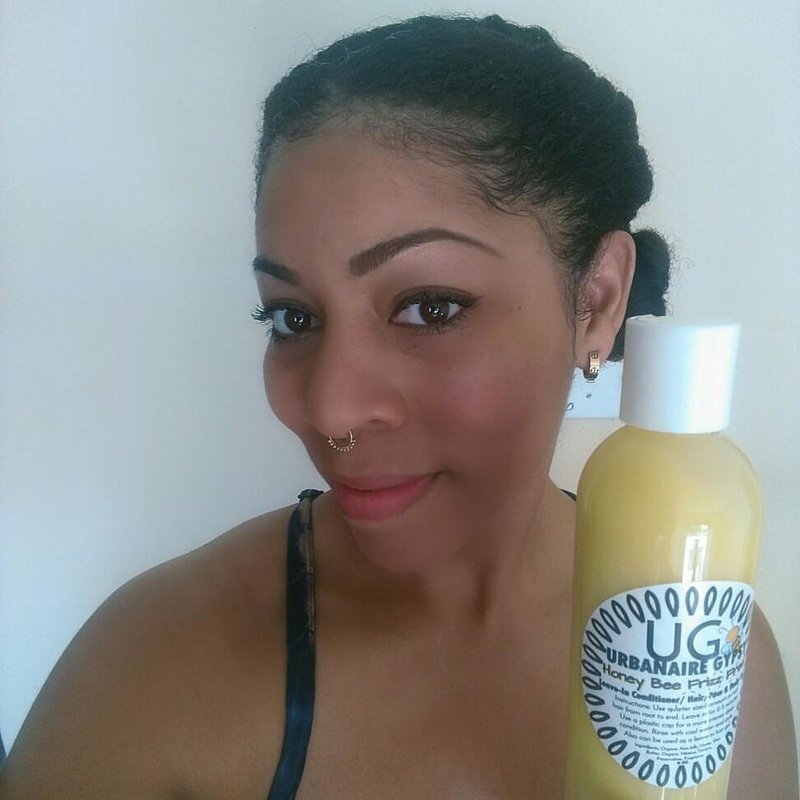 Honey Benefits:
Seals in moisture keeping hair conditioned.
Prevent damage, keeping your scalp and hair healthy.
Strengthens the hair follicles, curbing shedding.
It's antibacterial and antiseptic, preventing scalp infections and soothes issues like dandruff, eczema, and psoriasis.
Cleans the hair follicles by getting rid of impurities. This minimized clogging is often a reason for hair loss.
Boosts hair growth and stimulates hair re-growth from dormant follicles.
  Aloe Benefits:
Dandruff prevention.

Promotes strength and add shine to your hair.

Tames frizzy hair while still leaving  your locks silky and glossy.

Locks in moisture to improve the smoothness of hair.

Works as a detangler.
  Shea Butter Benefits:
Hair softener.

Protects hair from UV rays and environmental pollutants.

Soothes Dry And Irritated Scalp.

Vitamins A and E makes shea butter an excellent moisturizer to moisturize your hair from the roots to the tips.
  Hibiscus Benefits:
Prevents the premature graying of hair.
Combat hair loss and hair fall.
Makes the hair roots and strands stronger.
Conditions the hair mildly and makes it bouncier.